Nachrichten
30 April 2020
In view of the growing global trend for adoption of advanced digital technologies in agriculture, National Agency of Investment and Privatization provides active assistance to potential foreign investors in elaboration of pilot projects of precision farming in Belarus
Against the backdrop of the rapidly developing IT sector and considering the extensive potential of the Belarusian agriculture, NAIP has been exerting efforts to attract investors interested in the development and adoption of cutting-edge digital technologies and innovative solutions at agricultural production sites in Belarus.
The Agency has prepared and circulated among potential investors in-depth information on opportunities and prospects available in Belarus for implementation of projects pertaining to development of mapping systems, specialized information frameworks and applications, adoption of telemetric, geographic information and unmanned technologies, as well as production of modern robotized devices.
With participation of representatives from public authorities and Belarusian companies NAIP is now maintaining intensive communication with a number of foreign companies (including from Switzerland, France, Israel and Russia) which expressed substantial interest in projects in the mentioned domain. A number of farm businesses from Belarus have also confirmed their readiness to act as appropriate testing sites.
Along with the above mentioned dimension NAIP also actively promotes investment opportunities in all other promising segments of the Belarusian agriculture. Currently, the Agency's interactive portal "Investor Roadmap" contains over 150 investment projects and ideas in areas like growing of vegetables, berries and mushrooms, as well as sheep, livestock, poultry and fish breeding, processing and production of finished goods.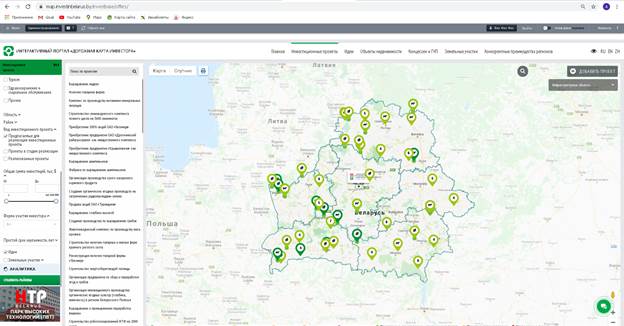 The Agency is ready to provide remote collaboration via videoconferences and individual online consultations between potential investors and both public authorities and Belarusian entities through all stages of project's implementation.
NAIP invites all those interested to actively use "Investor Roadmap" resources and services of online-communication with the Agency at www.investinbelarus.by/en and confirms its commitment to continue all-round support of companies interested in investing in Belarus, including provision of necessary additional information.