Press Centre
25 April 2018
Belarus is interested in opening joint companies with Brazil, Deputy Director of Belarus' National Agency of Investment and Privatization Mikhail Dashuk said at the meeting with representatives of the Eurasian Department of the Brazilian Trade and Investment Promotion Agency Apex-Brazil.
"Our countries have a wide range of areas that make the basis of mutual relations. Belarus and Brazil have been successfully cooperating. Brazil is one of our most important trading partners in Latin America. Today, it is time we moved to inter-country production cooperation, including the opening of joint ventures," said Mikhail Dashuk.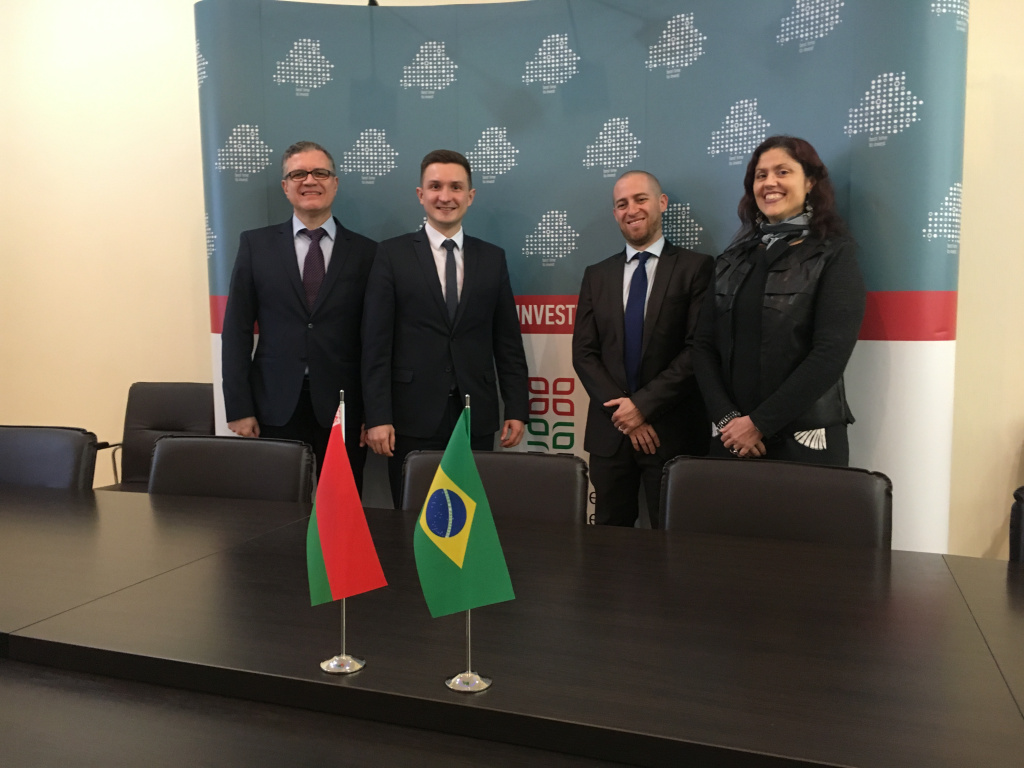 The parties discussed the current trends and opportunities for investment cooperation between Brazil and Belarus, and also doing business conditions in Belarus. The representatives of Apex-Brasil stressed that Belarus is interesting to Brazilian business with its EAEU market opportunities. They also took note of the rapidly developing Great Stone industrial park, which they toured as part of their visit to Belarus.
Apex-Brasil and the National Agency of Investment and Privatization agreed on further interaction and outlined steps for the development of investment cooperation. In 2017, the Belarusian-Brazilian trade exceeded $0.5 billion. Potash fertilizers make up the bulk of Belarus' supplies to Brazil (99% of the total). Belarus also exports to Brazil its bearings, linen fabrics, fiberglass, nitrogen fertilizers, tires, synthetic threads, tableware, machine tools, lighting equipment, and steel wire. Belarus imports Brazilian sugar, ethylene and propylene polymers, cellulose, dyes, agricultural equipment and farm machinery.
Apex-Brasil was set up in 2003 to promote Brazil's export and investment. The agency was founded by the Brazilian government jointly with the Ministry of Development, Industry and Foreign Trade. It is a government organization which activities are aimed at supporting foreign investors looking for ways to cooperate or expand their activities in Brazil, and also Brazilian companies advancing to the international market. Apex-Brasil actively promotes the Brazilian export. It organizes commercial missions and negotiations, supports Brazilian companies participating in major international exhibitions, and foreign buyers. The main mission of the agency is to increase and diversify Brazilian exports.