Press Centre
10 July 2020
Agreement between the National Agency of Investment and Privatization and the Mogilev Region Development Agency on collaboration in investment attraction was signed in Minsk on July 10, 2020.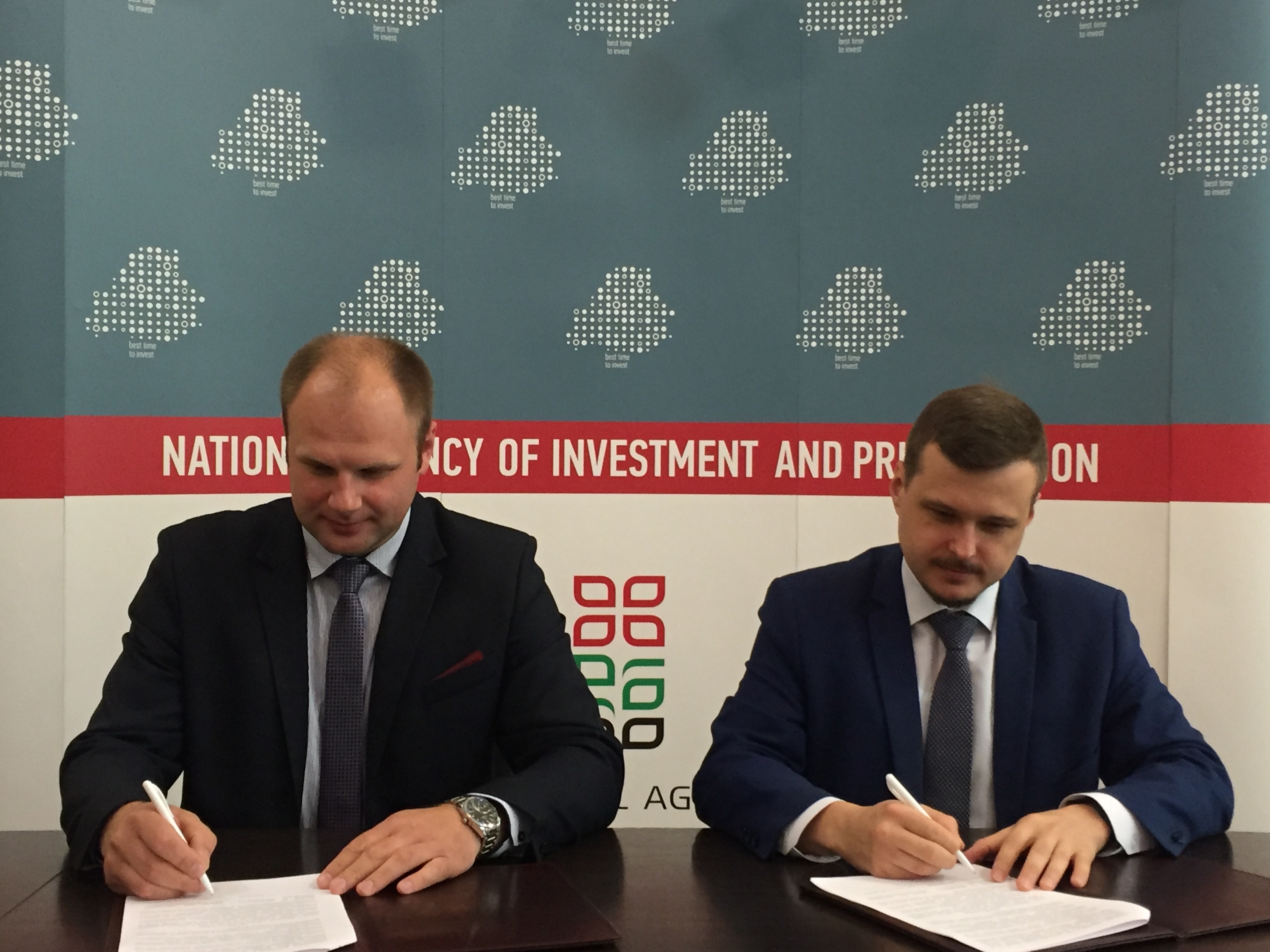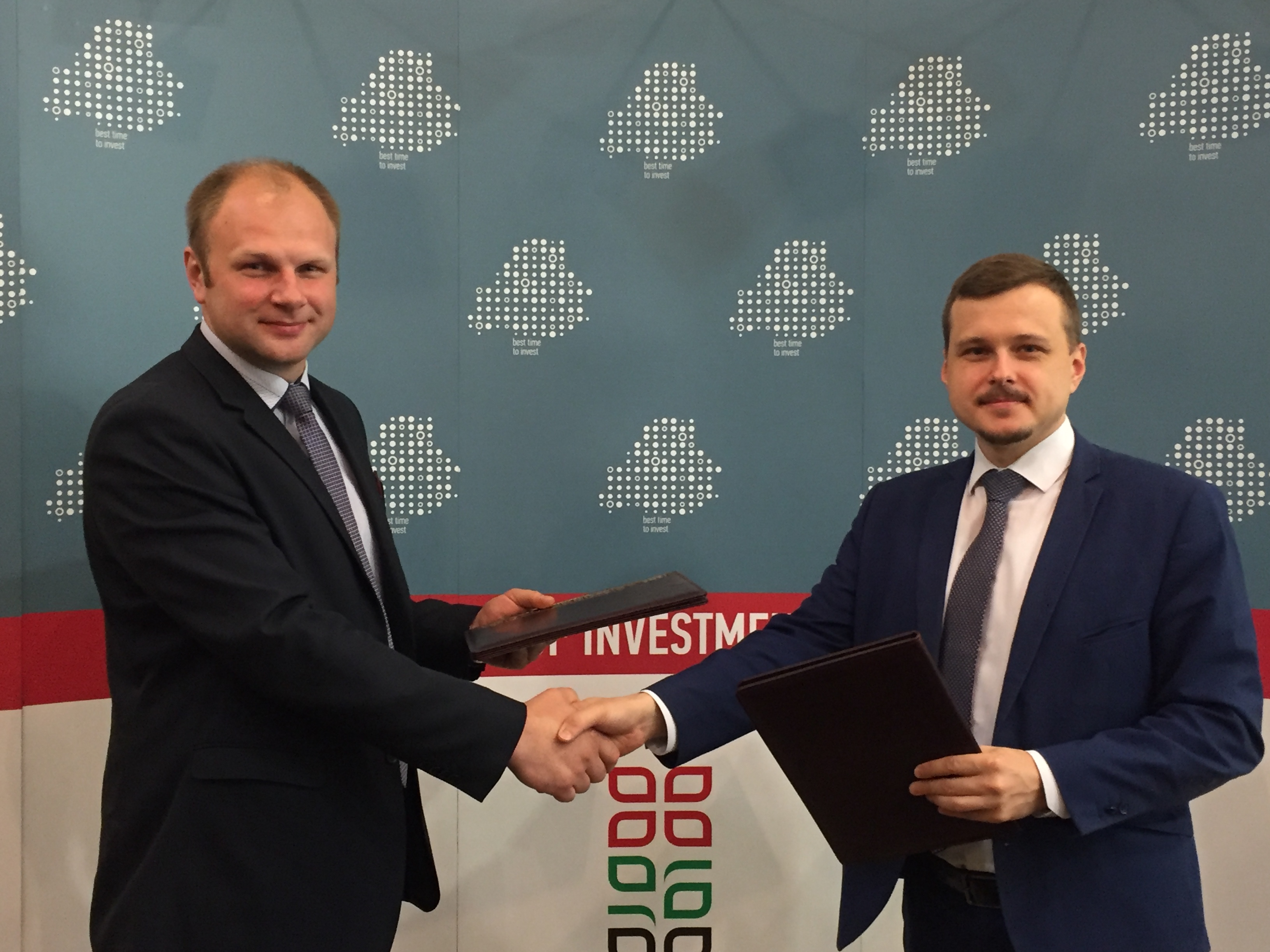 The document aims to expand cooperation between the two agencies to promote the positive investment image of Belarus with focus on the regional economic potential, as well as to exert joint efforts for elaboration of concrete projects with potential investors.

9 July 2020
On July 9, 2020 the leadership of the National Agency of Investment and Privatization, while visiting the China-Belarus Industrial Park "Great Stone", explored the potential and dynamics of this preferential regime's territory development.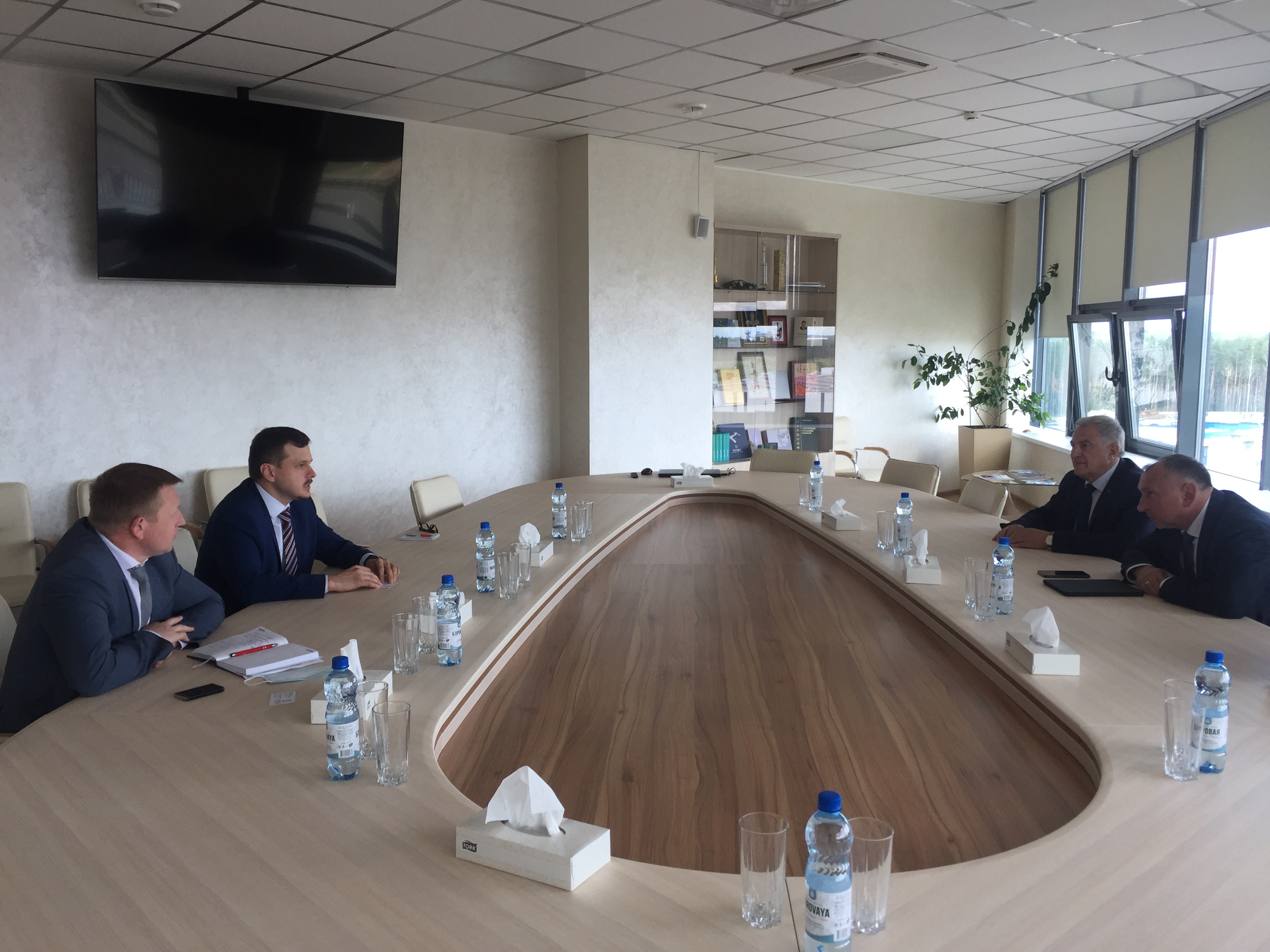 The meeting with the leadership of the Park Administration saw constructive discussions through the lens of the "Great Stone" capabilities about priority investment areas to work on with potential investors.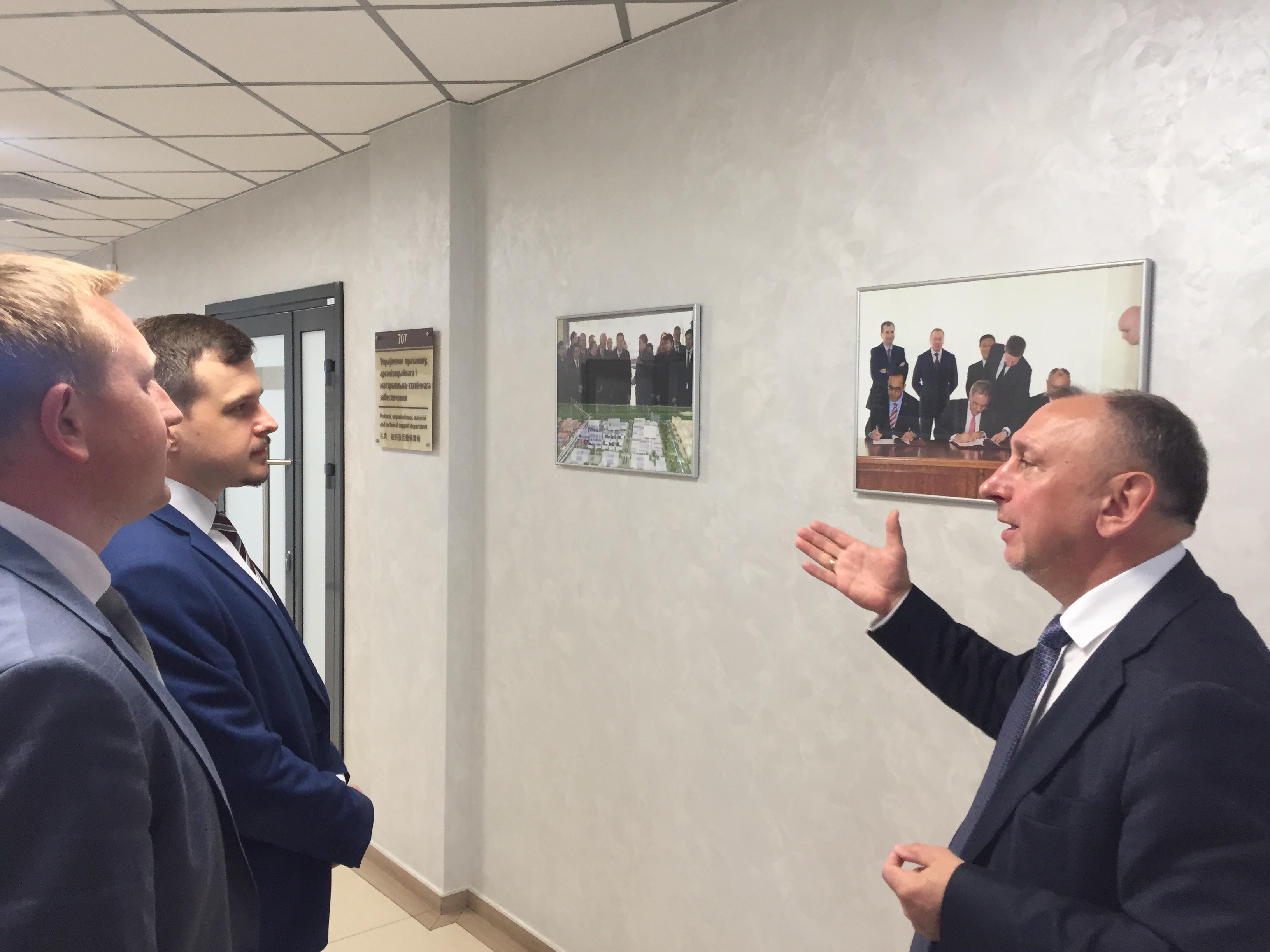 The meeting participants agreed to intensify joint efforts aimed to attract foreign investors for the implementation of technology-intensive innovative projects in the Park which will serve the interests of the national economy.

30 June 2020
On June 30, 2020 the leadership of the National Agency of Investment and Privatization visited FEZ "Vitebsk".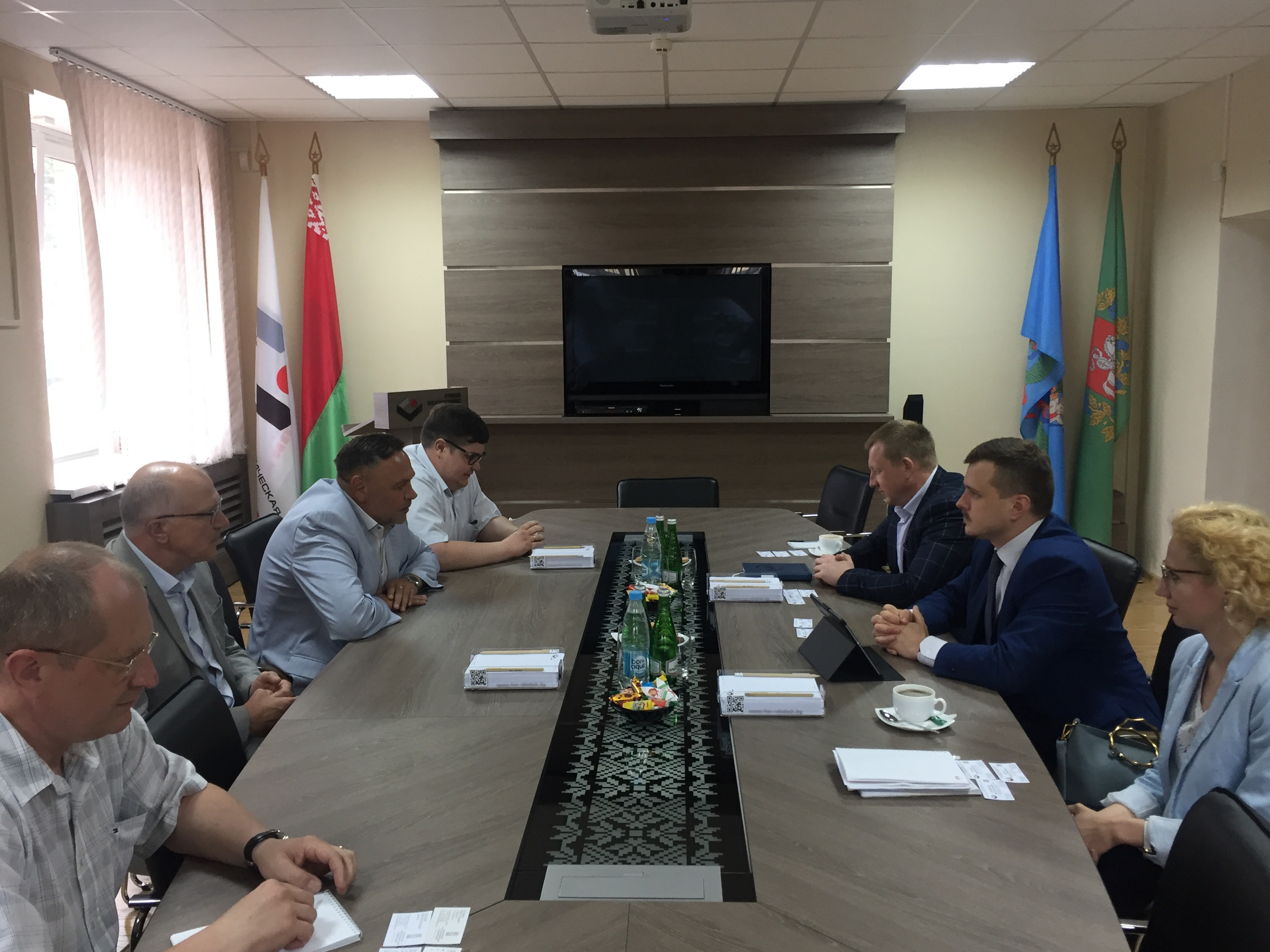 In the meeting with the chief executives of the free economic zone administration special attention was devoted to Vitebsk Region economic capabilities, promising investment projects with focus on the region's industrial potential and efficient formats for the joint work to attract foreign investment and encourage local entrepreneurial initiative.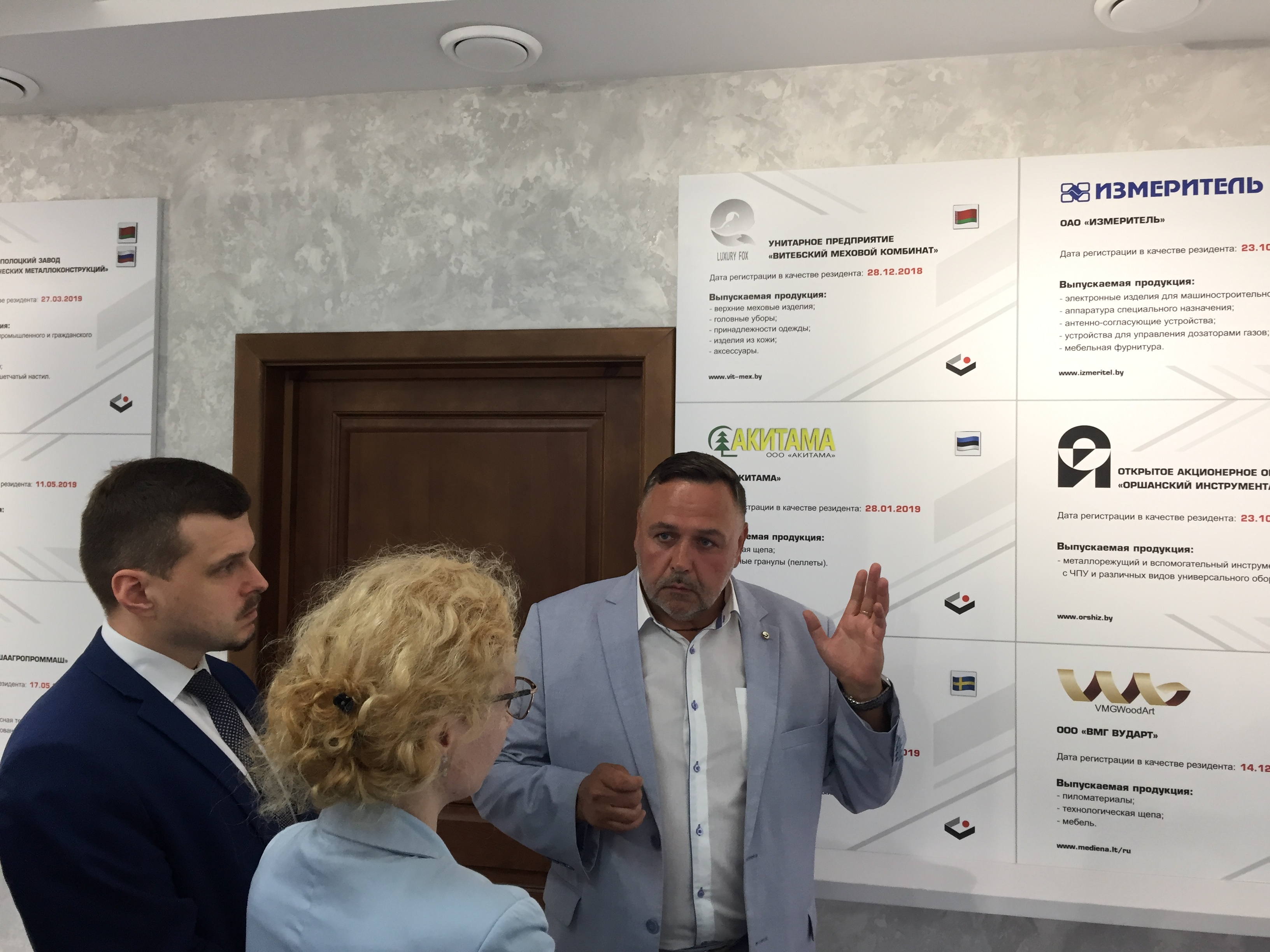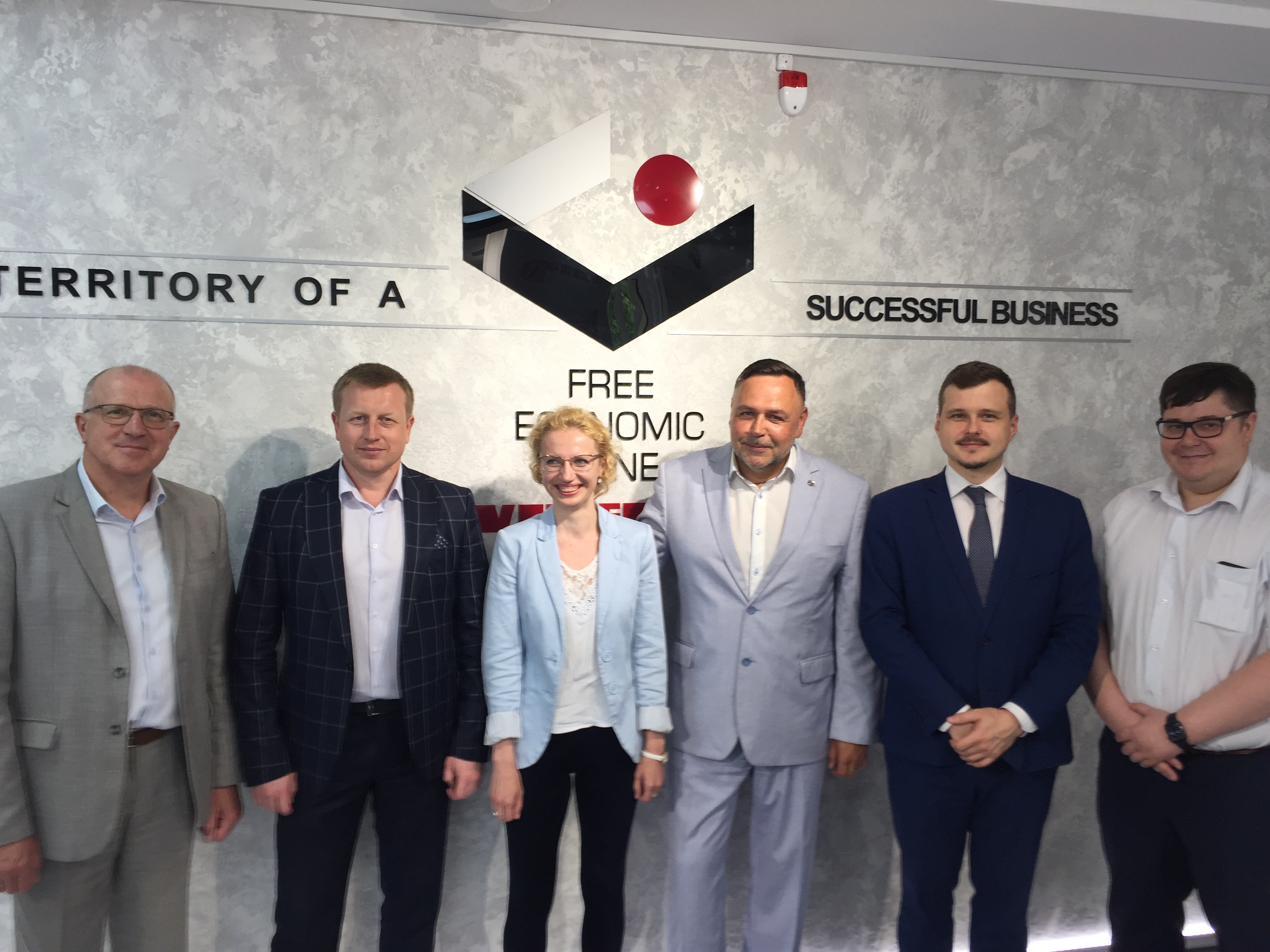 While visiting FEZ residents Soyuz-Cable FLLC and Modern-Expo LLC, NAIP representatives explored companies' experience and plans for further development in the scope of the growing trend of trade regionalization and production localization increase.

26 June 2020
On June 26, 2020 Mr. Dzmitry Krasouski, Director of the National Agency of Investment and Privatization paid a working visit to Mogilev.
Mogilev Region investment potential with focus on the most promising projects and ideas to work on with potential investors, as well as plans to intensify mutual efforts to facilitate foreign investment attraction in the region were high on the agenda in the Director's meeting with Mr. Ruslan Strakhar, Deputy Chairman of the Mogilev Region Executive Committee.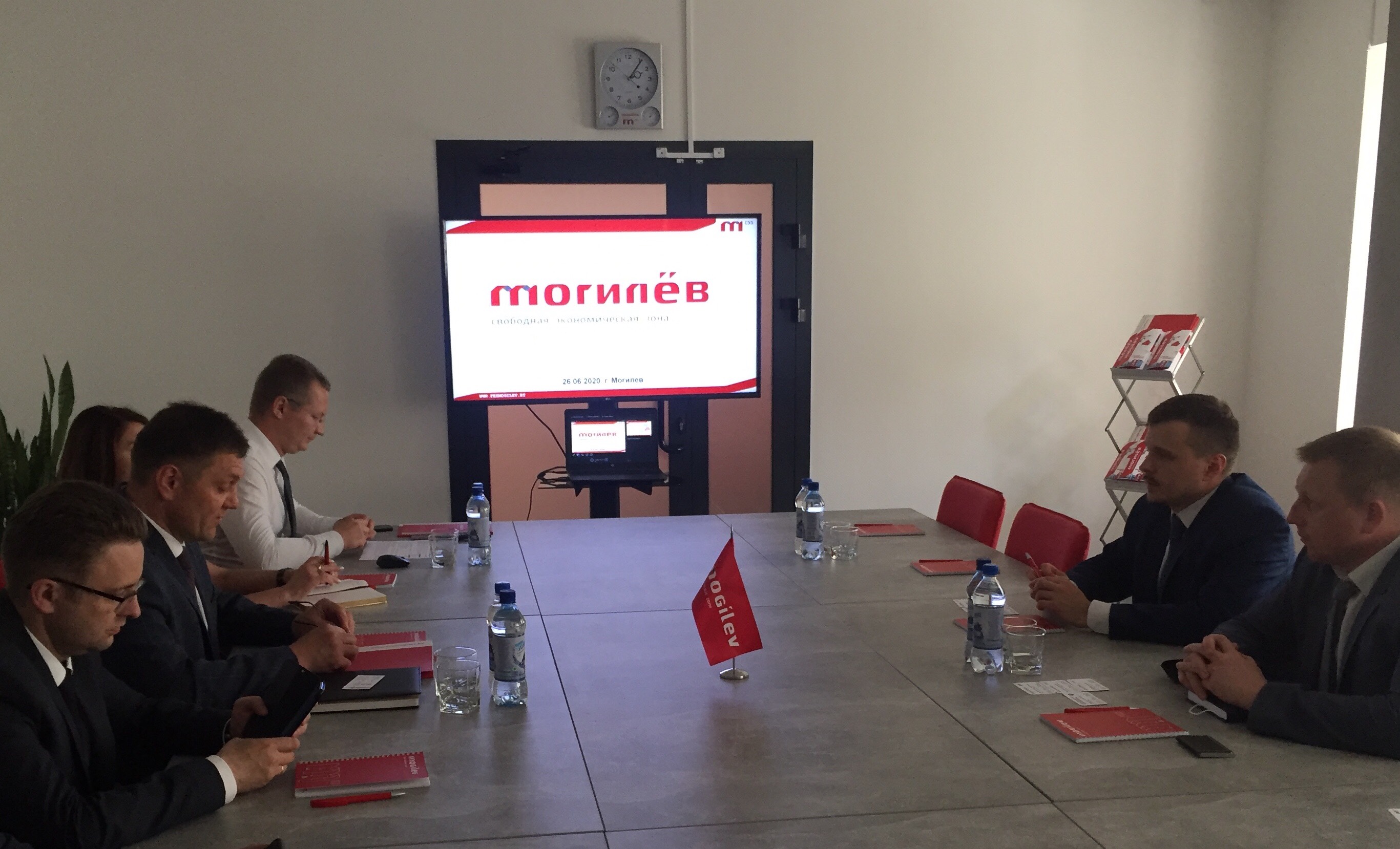 During the visit to FEZ "Mogilev" D.Krasouski held a meeting with the leadership of the free economic zone administration where he discussed experience and plans to promote investment attraction and exchanged views on efficient tools to interact with current and potential investors in view of the latest global trends and the present economic situation in the world.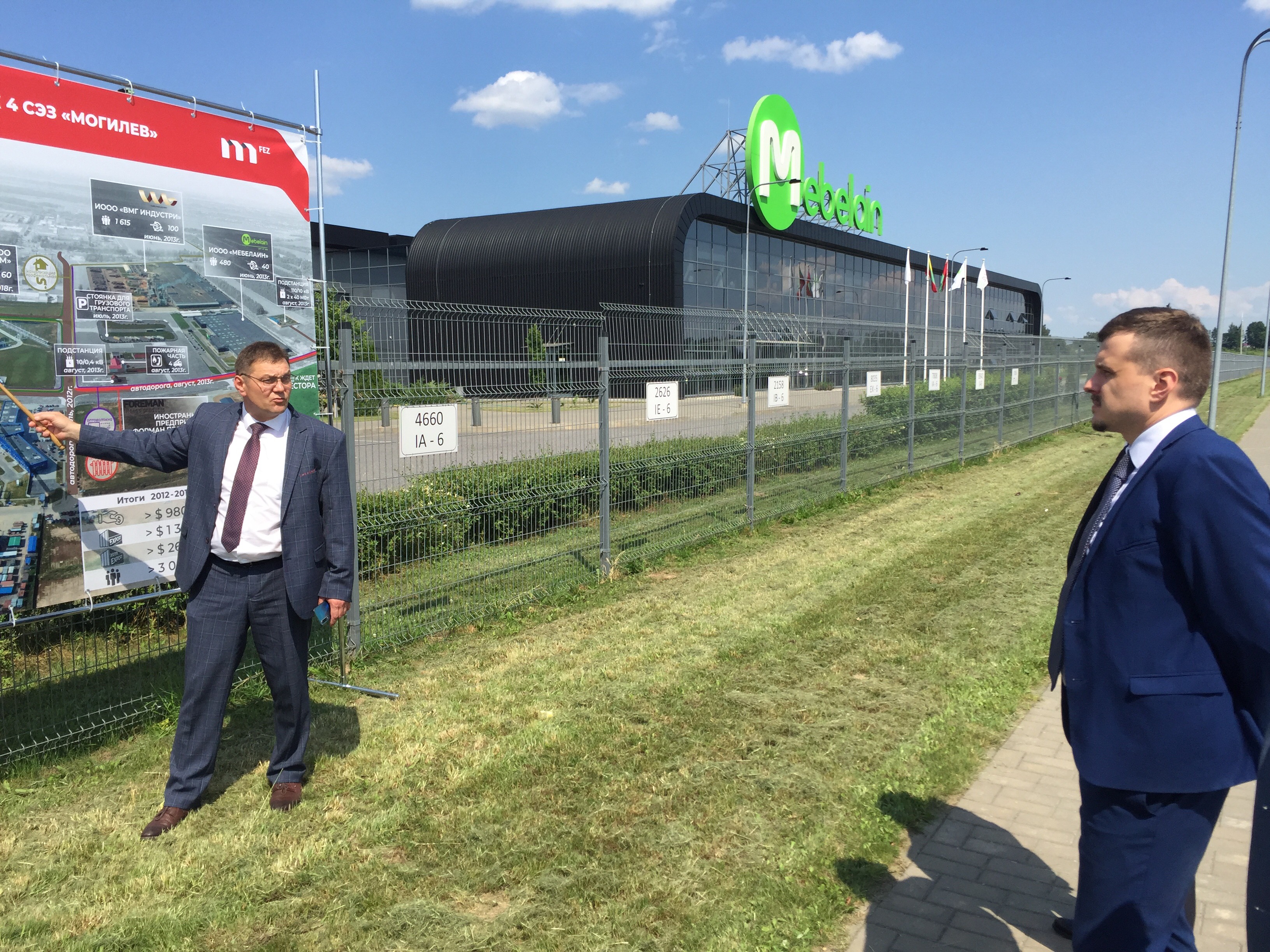 18 June 2020
With the active assistance of NAIP, the Russian company "CenterProgramSystem", which develops and implements up-to-date software solutions for the management of businesses, is now working on possible cooperation with Belarusian partners in application of advanced digital technologies at Belarusian agricultural enterprises.
With the aim to provide a meaningful support to the CPS-initiated research of this sector's potential, NAIP held relevant preliminary discussions with key actors in the Belarusian agro-industry, prepared a list of potential Belarusian partners with interest in eventual collaboration and arranged a number of online meetings and video negotiations with major Belarusian manufacturers of agricultural machinery, Hi-Tech Park residents, farm businesses and Gorki tech park.
Participants noted the high level of the Belarusian agro-industry and identified new opportunities to utilize its vast potential, particularly considering the advanced innovation infrastructure in Belarus and the High-Tech Park attractive preferential conditions. Following the productive negotiations, the parties agreed on the next steps to elaborate this promising investment cooperation.
NAIP will continue to render comprehensive assistance to all those interested in the implementation of investment projects for the adoption of advanced digital systems in the Belarusian agro-industry.
17 June 2020
On June 16, 2020 Prime Minister of Belarus Roman Golovchenko endorsed the appointment of Dzmitry Krasouski as Director of the National Agency of Investment and Privatization.
Introducing the new NAIP Director to the Ministry of Economy's staff, Aleksandr Chervyakov emphasized the objective to reshape and reenergize Agency's work, as well as to actively employ regional potential and further enhance opportunities for business activities while pursuing the main goal – increase investment inflows in Belarus.
The Minister wished the NAIP Director a good start and productivity in his work. For his part, Dzmitry Krasouski expressed gratitude to his colleagues for the trust and warm wishes, and confirmed his strong commitment to continue the Agency's active and meaningful work aimed to achieve tangible results.
The same day Dzmitry Krasouski had a greeting meeting with the Agency's staff members where he discussed NAIP's priority targets and ways to achieve current objectives, underlined the significance of every employee's professional contribution and called on the colleagues to perform as one working towards a common goal.
16 June 2020
The attractive conditions, created by the President's decision in 2015, to develop economic activity in the southeastern region of the Mogilev Region have significantly encouraged investors' and businesses' interest in projects at the regional level.

Following on from that positive experience, on May 28, 2020 Decree of the President of the Republic of Belarus No. 177 "On Measures for the Development of the Southeastern Region of the Mogilev Region" was adopted to create additional conditions for the comprehensive social and economic development of the Southeastern region of the Mogilev region.
The document specifies the procedure for providing organizations with payments from the republican budget to partly reimburse the expenditures they will incur when implementing investment projects in 2021-2025 in the framework of the Program for the Social and Economic Development of the Southeastern Region of the Mogilev Region until 2025.
The Decree also extends until 2025 the main provisions of the Decree of June 8, 2015 No. 235 "On the Socio-Economic Development of the Southeastern Region of the Mogilev Region" which stipulates reduced rates for the income tax and contributions to the Social Protection Fund along with the public financing of expenses for the construction of engineering and transport infrastructure for the implementation of investment projects in agriculture and industry in the region.
12 June 2020
Production of ecologically safe packaging materials today plays an increasingly important role in the efforts to minimize economic impact on the environment. We talked to Mr. Alexey Drapeza, a representative of Kinglet group of companies in Belarus, which is implementing the first project of biodegradable packaging manufacturing in our country.
- Could you please tell us about Kinglet group of companies and its unique project in Belarus on production of biodegradable packaging?
- Over the recent 20 years, Kinglet group of companies has been developing and producing different types of modern packaging for major retail chains in Belarus, Russia, Lithuania and Moldova. Production of ecologically safe packaging is one of our business's development priorities for the nearest future.
In 2019 we partly re-equipped capacities of our production site in the town of Logoisk for biodegradable wraps and bags, and this experiment was successful. Then in March 2020 we registered BioKinglet, our new company in the Industrial Park "Great Stone", what has kick-started our work on the launch of a new production of biodegradable and compostable packaging and eco-friendly tableware in partnership with Novamont – world leader in bioplastics and biochemicals.
This year we have also become Novamont's official distributor of biodegradable raw material Mater-Bi in Belarus, Russia and Kazakhstan. This biopolymer made of corn flour and polysaccharides is unique for its ability to completely biodegrade in the environment due to physical factors and microorganisms. The products manufactured of this material (certified according to the relevant European standards) are on a par with equivalent plastic goods in functionality and possess aesthetic design and pleasant flavor.
In the future, we are planning to arrange our own production of similar raw materials in the framework of the technological support agreement signed with our Italian partners.
- Would you please share your thoughts on Kinglet experience in collaboration with the National Agency of Investment and Privatization? Why do you think companies eager to invest in Belarus should employ the free-of-charge services provided by NAIP?
- Frankly, when we first reached out to NAIP late last year with a request to help arrange meetings for us and our partners from Italy (Novamont and ARS Ambiente Srl) and Norway (BioBag International AS) with specialists of the Belarusian relevant public authorities, we did not expect to receive that high level of professional informational and organizational support within a very short timeframe. We were especially impressed by the NAIP expertise in this quite novel, not only for Belarus, but also the entire world, sphere of ecologically safe packaging production.
We and our foreign partners are very satisfied with the results of the meetings with representatives of several ministries and public entities, Industrial Park "Great Stone", Operator of Secondary Material Resources, organized by NAIP in the Agency's premises. Kinglet also appreciated NAIP profound consultative assistance – just within a month from the very first discussion, its experts developed an investment attraction strategy for our future biodegradable production site, as well as prepared necessary informational materials designed for investors and a list of potentially interested foreign companies.
Before the restrictions amid COVID-19 were introduced outside Belarus, we had held a meeting with a possible investor. Other potential investors had to postpone their scheduled visits to Belarus. We are now looking forward to the resumption of the international trips to continue our purposeful work with potential investors during the visits to the production sites.
We are very pleased that NAIP, even though it already rendered all the currently necessary assistance, remains involved in our work on the investment project. Thus, I would like to emphasize that our experience has convinced us that National Agency of Investment and Privatization today is an important and valuable partner for businesses. NAIP experts are true professionals practically implementing responsible and prompt approach and, what is key, determination to achieve concrete results.
- Proceeding from Kinglet's practical activity experience in Belarus, what would be your recommendations for potential foreign and local investors considering investing in Belarus? What do you think are the main advantages of the investment climate in Belarus?
- We are confident that both foreign and Belarusian companies with low investment experience in Belarus are better to start with the support of NAIP experts who will consult on the opportunities available within various preferential regimes and legal aspects for investments in our country, assist in preparation of diverse documents, arrange required meetings with public authorities and accompany through all the stages of investment activity.
As for the national investment climate, we believe there are multiple advantages, particularly Belarus's central location between major EU and EAEU markets, well-thought-out tax and customs incentives, high qualification of local specialists and still acceptable level of competition which creates pre-conditions for accelerated development.
Today we see great opportunities in Belarus to further expand business and are optimistic about our plans for the future.
5 June 2020
The National Agency for Investment and Privatization invites you to take part in the webinar "GREAT STONE - GREAT BUSINESS OPPORTUNITY", which will be held on June 18, 2020 at 11:00 (GMT + 3).
Participation in the event is
free
.
Registration for the webinar is available
here
.
Download
invitation
and webinar
program
.
30 April 2020
In view of the growing global trend for adoption of advanced digital technologies in agriculture, National Agency of Investment and Privatization provides active assistance to potential foreign investors in elaboration of pilot projects of precision farming in Belarus
Against the backdrop of the rapidly developing IT sector and considering the extensive potential of the Belarusian agriculture, NAIP has been exerting efforts to attract investors interested in the development and adoption of cutting-edge digital technologies and innovative solutions at agricultural production sites in Belarus.
The Agency has prepared and circulated among potential investors in-depth information on opportunities and prospects available in Belarus for implementation of projects pertaining to development of mapping systems, specialized information frameworks and applications, adoption of telemetric, geographic information and unmanned technologies, as well as production of modern robotized devices.
With participation of representatives from public authorities and Belarusian companies NAIP is now maintaining intensive communication with a number of foreign companies (including from Switzerland, France, Israel and Russia) which expressed substantial interest in projects in the mentioned domain. A number of farm businesses from Belarus have also confirmed their readiness to act as appropriate testing sites.
Along with the above mentioned dimension NAIP also actively promotes investment opportunities in all other promising segments of the Belarusian agriculture. Currently, the Agency's interactive portal "Investor Roadmap" contains over 150 investment projects and ideas in areas like growing of vegetables, berries and mushrooms, as well as sheep, livestock, poultry and fish breeding, processing and production of finished goods.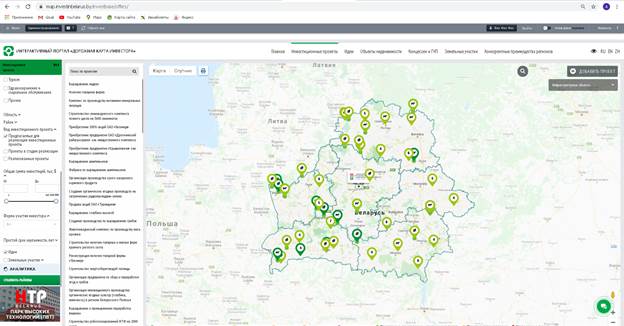 The Agency is ready to provide remote collaboration via videoconferences and individual online consultations between potential investors and both public authorities and Belarusian entities through all stages of project's implementation.
NAIP invites all those interested to actively use "Investor Roadmap" resources and services of online-communication with the Agency at www.investinbelarus.by/en and confirms its commitment to continue all-round support of companies interested in investing in Belarus, including provision of necessary additional information.